PADI || Experiences || Recreational Courses || Professional courses || Specialty Courses || Freediver || FAQs ||
---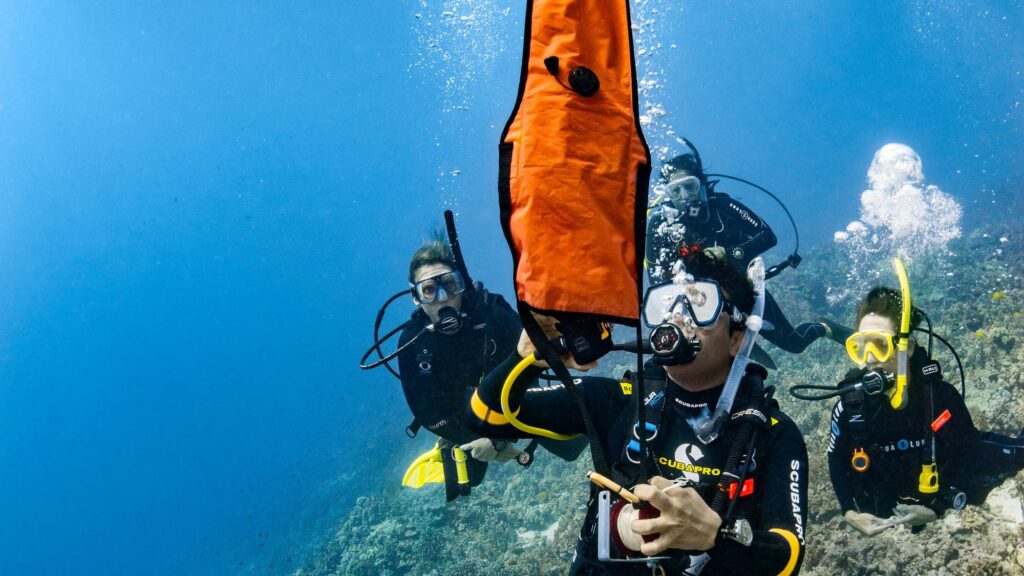 Description
The PADI Adventure Diver course is a subset of the PADI Advanced Open Water Diver course.
Ever wanted to try taking digital underwater photos, identifying fish or diving with a dry suit?
In this program, there is a long list of underwater adventures you could participate in.
Complete three Adventure Dives and earn the Adventure Diver certification.
It is an excellent opportunity to work with your instructor to improve your skills and gain greater confidence.
Try what you like and enjoy diving even more.
Get credit! Each Adventure Dive may be credited as the first dive of the corresponding PADI Specialty Diver course.
If you have already completed a specialty course, ask your instructor if this counts as credit for an Adventure Dive.
If you are at least 10 years old and are a PADI (Junior) Open Water Diver and want to take the next step, you should enroll in the Adventure Diver course.
Younger divers can only participate in certain Adventure Dives – ask your PADI Instructor for information.
Academic Course
You can choose what interests you to learn the most.
Do you have to work on your set-up? Try the Peak Performance Buoyancy Adventure Dive. Do you want to know what you observe when you are underwater?
Try the AWARE – Fish Identification or the Underwater Naturalist Adventure Dive.
You will plan your route with your instructor, learn what you need to know and dive as soon as possible.
Necessary Equipment
In addition to your basic equipment and depending on the Adventure Dive of your choice, you may learn how to use specialized equipment.
For example, for the Dry Suit Adventure Dive you will need a dry suit or a sidemount setup for the Sidemount Adventure Dive.
Your PADI Instructor will show you the equipment you will need, and may recommend more, such as a torch for night diving or a lifting ball for search and recovery.