PADI || Experiences || Recreational Courses || Professional courses || Specialty Courses || Freediver || FAQs ||
---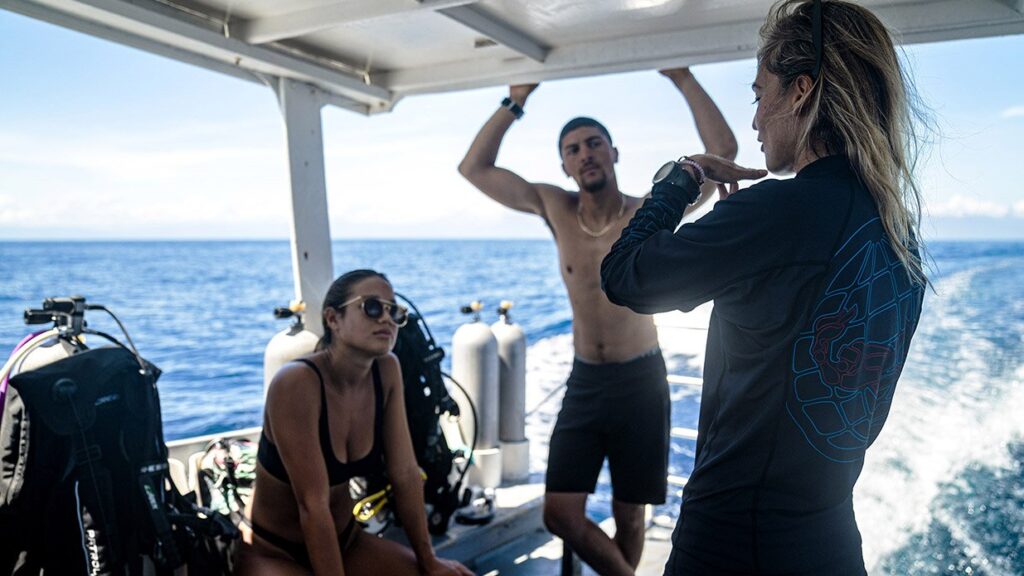 Description:
The PADI Divemaster course at Underwater Academy centers is an exciting opportunity for those who wish to pursue a career in the diving industry. This comprehensive program provides students with the skills and knowledge necessary to become true professionals in the field, offering them a solid foundation of underwater experience and safety.
Academic Path:
During the Divemaster course, students will engage in a series of academic modules that cover a wide range of topics related to the underwater world. They will be guided by highly qualified instructors who will share their knowledge and industry experiences with them. Through interactive lessons, group discussions, and advanced educational materials, students will gain a deep understanding of diving theories, such as underwater physics and physiology, air management, and the use of dive tables. This strong theoretical foundation will enable them to tackle challenges that arise during dives.
The equipment you will use:
Underwater Academy provides students with all the necessary equipment for the Divemaster course. They will have the opportunity to learn how to use a wide range of high-quality scuba gear, including underwater compasses, buoyancy control devices (BCDs), masks, and fins. Instructors will explain in detail how to properly use each equipment component and perform safety checks to ensure smooth dives. Moreover, students will have the chance to familiarize themselves with the equipment used during drift dives and learn techniques to safely and effectively handle such situations.
Required Prerequisites:
Before enrolling in the PADI Divemaster course at Underwater Academy, certain prerequisites must be met.
Students must be certified PADI Advanced Open Water Divers and Rescue Divers (or equivalents). Additionally, they must have completed a Cardio Pulmonary Resuscitation (CPR) and First Aid course within the last 24 months.
Students must be at least 18 years old and have logged a minimum of 40 recorded scuba dives in their logbook.
These prerequisites are essential to ensure that students have the necessary skills and knowledge to become qualified and responsible Divemasters.
Certification Issued:
Upon completion of the PADI Divemaster course at Underwater Academy, students will receive an internationally recognized certification. This certification, endorsed by PADI, confirms that students have successfully completed the course and are qualified to work as professional Divemasters worldwide. The PADI certification is widely respected in the diving industry and provides many opportunities.
If you need help, see our FAQs
Skin Diver PADI

Skin diving is like snorkeling, except that, to observe aquatic life more closely, you dive in apnea. Whether you are in a freshwater lake, in the ocean, at home or in one of the diving holiday destinations, the PADI Skin Diver course teaches you to enjoy the underwater life and dive for short visits.

Basic Freediver PADI

The PADI Basic Freediver course is a sub-course of the PADI Freediver. It is an ideal initial course for developing solid freediving skills. You will learn the basic principles of freediving and concentrate on practicing techniques for holding your breath in the pool or in a confined water site.

Freediving PADI

Freediving is about inner strength, discipline and control. If you have always wanted to silently enter the underwater world, at your own pace, and stay there as long as your breath allows it, then freediving is for you.